The project is up and running and the first issues are being distributed.
If you're a shop owner or someone able to distribute zines, or already have some
and need more, please reach out to Ope! via email or call 917.727.6581.
Links to the individual zines are below (as available).
These are all the places we could hit in one day. More will be added over the coming week. 
608 Brewing, Another Green World, Art Pop, Bean Juice, Black River Beach and Neighborhood Center, Bodega, Briar Patch, Clocks Off Main, Coleman Center at WTC, Dave's Guitar Shop, Dan's Shoe Repair, Deaf Ear Records, Genie's Rock, Global Grounds Coffee, Greenhouse Holistic Co-op, Grounded Coffee House, Java Vino, Kroner's Hardware, La Crosse Public Libraries, Larson's General, Pearl Street Books, People's Food Co-op, Planned Parenthood, Riviera Salon, Rock Shop on Fifth (name TK), Root Note, The Laundry Room, Tree Huggers Northside, YMCA on Main Street
Making La Crosse even better.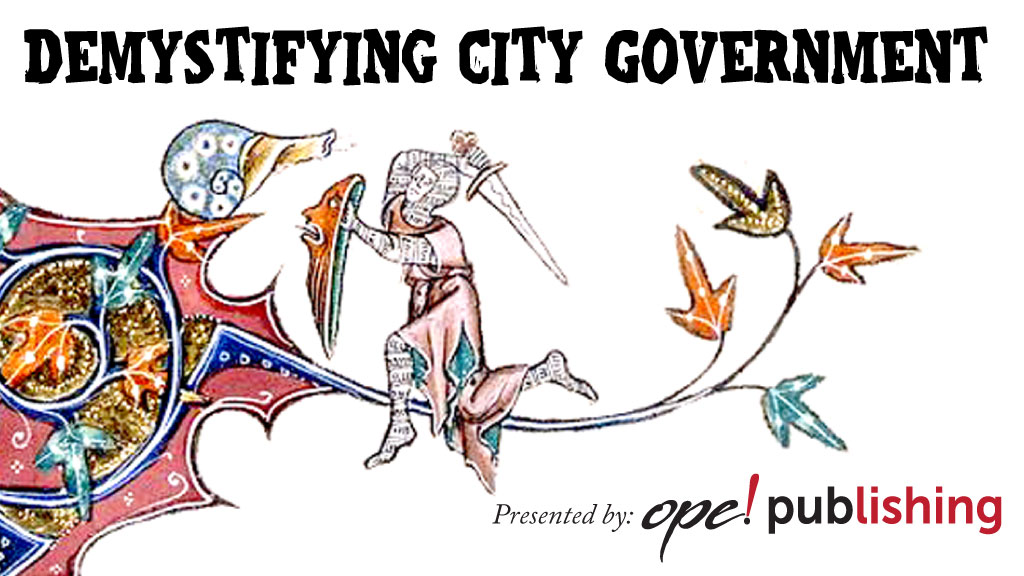 VOLUME ONE
Getting a project proposal
in front of Council for a vote
Postal employee/avid skateboarder Brock Coyle wrote about the steps he took to get the skate park by Erickson pool approved AND funded. District 6 Councilwoman Chris Kahlow wrote about the city's side of the story and how the process can be used for other issues. 
VOLUME TWO
Direct legislation: The way to get questions and/or new laws proposed
Pam and Gary Knudtson will write about their experience with getting a "We the People" resolution on the ballot in 2017 (which passed, garnering 80% of the votes). Nickki Elsen, La Crosse City Clerk, will write a brief summary of the process from the city's perspective.  
District 13 Councilman Mark Neumann has participated in several campaigns for himself and thers and will write about his experiences and what it took to get elected. Former Councilwoman Jessica Olson (District 8) will write about the institutional structure of City Hall, some of the rules and regulations, and her thoughts / recommendations for anyone considering becoming a councilperson.
And bookmark or subscribe to our podcast on Spotify. As part of this series, we'll be interviewing the contributors as well as other people involved with city government. 
Ope! thanks the following for donating to this project.
It's because of them—along with all the people who are contributing their
time and effort to write about their experiences with city government—
that we're able to bring these zines to you, free of charge.
Anonymous
Mark Neumann
Janice & Dave
Ross Seymour
Alexis Aubrey
Rebecca DeVivo
Doris Coyle
Anonymous
Jay Lynch
Pam Hartwell
Anna Hostler
Martin Gaul
Virginia Crank & Dennis Ciesielski
Gabriel Cohen
Elspeth (Twink) Battel 
Mary Lloyd-Jones
Curt Meine
Patrice Kohl
G Wayne Hoffman
Anonymous
Eileen McNamara
Nathan Crowder
Casper Molina
William Stabile
with support from: